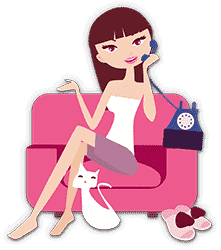 Psychic Sofa
Psychic clairvoyants wanted for one the best Psychic services in the UK!
Psychic Clairvoyant
Would you like to log-on for one of the best telephone Psychic Clairvoyant services in the UK? We are a warm ethical, family-run company and we're committed to providing the best readings possible to our clients.
Clairvoyant job opportunities in the UK are many and varied but working from home over the telephone seems the clear winner.
In the Past
Traditionally clairvoyants wishing to utilise their gift as a means of income have been faced with their fair share of obstacles! Let's begin with the overheads such as advertising, these costs can be crippling and make selling a reading non profitable. You can hire a space in which to work out of but this again requires charging more to the consumer thus making it harder to compete. Travelling in this day and age is both costly and there is always the question of safety when meeting a stranger face to face be it visiting their home or inviting a customer to your own!
How Things Have Changed!
Clairvoyant jobs have been transforming over the years, leaving the above mentioned problems in the past! You can now work as a clairvoyant from the comfort of your own home and enjoy the low overheads this type of work affords. With R J Media it has never been easier to create a revenue stream through working as a clairvoyant because we really do most of the work for you! We advertise heavily throughout the U.K. and as far a field as Australia, resulting in one of (if not THE) busiest psychic line/s in the U.K. and so when you do wish to take calls and read for customers you will almost certainly always be busy.
Who Are R J Media?
R J Media and its services have been run by the same family for almost 30 years now and have been providing holistic services for 20 of those. We are well placed to be your first choice for a clairvoyant job. We offer the opportunity to logon to our system from your own home and transfer the customer to your landline telephone when you choose to be available to receive them. As soon as you decide you no longer wish to give readings you can logoff as simply as you logged on. You work with R J Media as a self employed clairvoyant and will be asked to sign a contract in agreement of our terms and conditions of practice, providing they suit you.
How to Get Started Right Away!
Within 24 (working) hours of submitting a form through this website you can expect to receive a call from one of our team to arrange an introduction. When a time has been mutually agreed you will be called back by one of our team support who will be able to answer any questions you may have and to conduct a short test reading to ensure your services are going to be appropriate for our website/s and for the customers you would be speaking with. Once this has been completed and both parties are happy to continue we will ask you to complete a series of questions (in writing) to help us create your online profile. At this stage things start getting exciting as your almost there! Once your profile has been created by one of our team you will be asked to undergo a short over the phone training session to learn how to use our system and away you go! You're ready to start earning money with an at home clairvoyant job!
So if you're ready to start earning top rates of revenue share from doing what you love, please submit the application form and we will in contact within 24 working hours to get you started!**
NOTE: Please remove all answer phone machines and call waiting services by speaking to your provider before applying to become a Freelance Psychic & Tarot provider. As a Freelance Psychic & Tarot provider you will be responsible for your own Tax & National Insurance contributions.
Testimonials
I have been a freelance agent for Psychic Sofa since they first launched, and Psychic Sofa are continually growing and offering more and more reasonably priced services, and we are always given the opportunity of using any other skills that we may have to enhance a customers reading. Psychic Sofa is really flexible and we can log-on at hours to suit ourselves. I started off logging on a few hours in the evenings and some hours of a weekend as I was a single parent and I had a full time job.

This sort of work was far more rewarding than my day job of over twenty years and I took the brave step about two years ago to log-on for Psychic Sofa full time and this was definitely was the right decision for me. If you are a single parent, have a family to work around and want to help people and need something to fit around your circumstances then logging on for Psychic Sofa is the place for you.One of the nicest of things is the appreciation of customers shown in the testimonials that you will receive, and if you are having an 'off' day, re-read them and it will certainly cheer you up! -- Angie Read More